The Future of the "MAKEDONIA" airport
As part of its mandate for taking over management and operations at the 14 airports, Fraport Greece has prepared a comprehensive plan for the modernization and development of the airports. The company's plan includes immediate projects and development works for upgrading the airports' facilities, which will contribute significantly to improving the overall customer travel experience, while responding to the expected increase in passenger traffic. Fraport Greece will invest a minimum of 400 million euros for development works until 2021.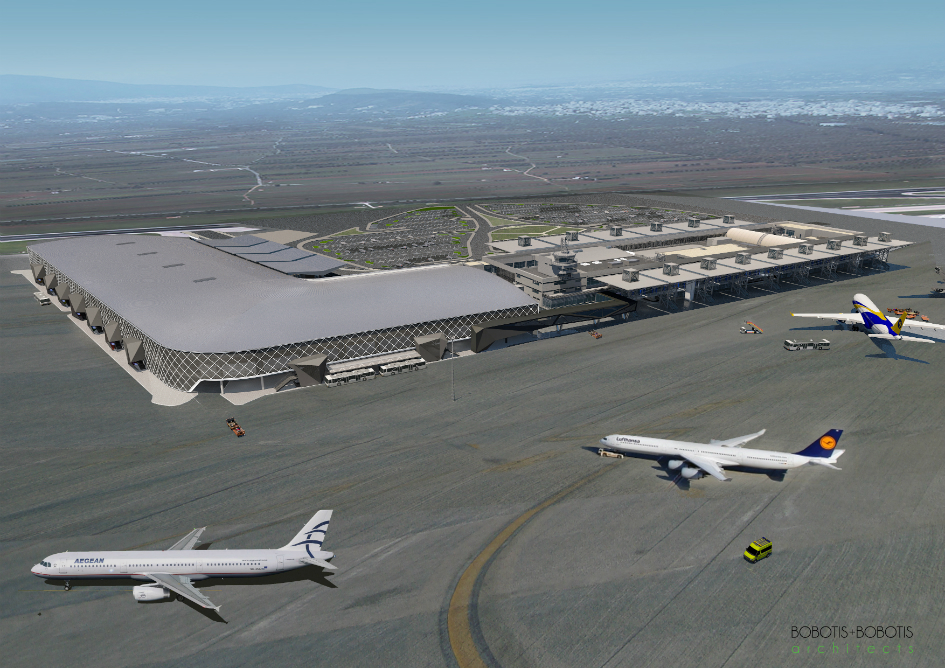 Fraport Greece's major development works to be implemented during the first four years of the concession period include building five new passenger terminals – at the airports in Thessaloniki, Kerkira (Corfu), Kefalonia, Kos, and Mytilene (Lesvos) – and modifications at other airports. This will result in an increase of 100,000 m2 in terminal size at the 14 airports, reaching a combined total 300,000 m2.
The significant improvements for increasing the total capacity of the airports and the quality of services also include: increasing the number of check-in counters from 213 to 297, (+23%), the number of security-check lanes from 44 to 84 (+47%), the number of departure gates from 103 to 147 (+30%), and the number of aircraft parking stands from 115 to 150 (+23%).
Refurbishment projects at the 14 airports will be implemented for: all 15 runways, the existing terminals (200,000 m2 in total), sanitary facilities (10,000 m2 in total), 14 fire stations, airport apron areas, and 100 diesel generators. Baggage screening systems featuring the latest technology (inline system) will be installed at all of the airports.
An important element of Fraport Greece's new era for the 14 gateways is to renew and modernize the external and internal image of the airports. Indeed, the neat and, in some cases new, architectural designs of will offer a new image at these 14 "gateways of Greek tourism" – thus creating a pleasant travel experience to millions of passengers every year.
The following summarizes the enhancement changes that will be implemented at the "Makedonia" airport in Thessaloniki:
- New terminal
- Terminal expansion by 30,998 m2 , incl. new landside access
- Remodeling of existing Terminal
- HBS inline screening
- New fire station
- Expanding the waste water treatment plant or connection to municipal service
- Reorganizing the airport apron area
- Refurbishing airside pavement
- Terminal expansion by 31,380 m2
- 47 percent increase in the number of Check-in Stations (from 30 to 44)
- 75 percent increase in the number of security lanes (from 4 to 7)
- 50 percent increase in the number of departure gates (from 16 to 24)
- Doubling the number of security-check lanes (from 6 to 12)