Get ready for your travels
Your safety is our priority. Please find below everything you need to know about air travel in Greece, as well as the protection measures we have implemented so that you can enjoy a safe, worry-free travel experience.
Intensive Cleaning & Disinfection
Special attention given to WCs, security trays and other frequently touched surfaces and devices

Hand Sanitizing Stations
Hand sanitizers are available within the terminal building

Placement of Protective Shields
Protective panels have been placed at service counters

Enhancement of Contactless Processes
Contactless self-service and transaction is recommended where available

Embarkation / Disembarkation through Pedestrian Walkways
Procedures in place for transfer of passengers to/from the aircraft

Raising Passengers' Awareness on Protective Measures
Continuous updates through display monitors, announcements and posters/markings

Personal Protective Equipment to Airport Staff
Fraport Greece employees have been provided with all required personal protective equipment

Continuous and Thorough Training
The airport staff adheres to the measures of the competent authorities and implements the industry's best practices
Wearing a protective mask in the passenger terminal building at the airport is compulsory.
Currently no Covid-19 related measures and restrictions apply for domestic travel.
Currently no Covid-19 related measures and restrictions apply for international travel.
The Interbalkan Medical Center of Thessaloniki has established a special sample taking unit within the airport premises (arrivals level- all users area) of Terminal 1 (T1), which operates daily from 10am to 6pm. All interested parties may undergo a Covid-19 molecular detection (rRT-PCR) testing.
For bookings and further information, please click on following link https://payments.iatriko.gr/. The contact number at the airport is +30 2314400211.
The content of this section is for informational purposes only and may be subject to change. Fraport Greece assumes no responsibility for any errors, omissions or changes.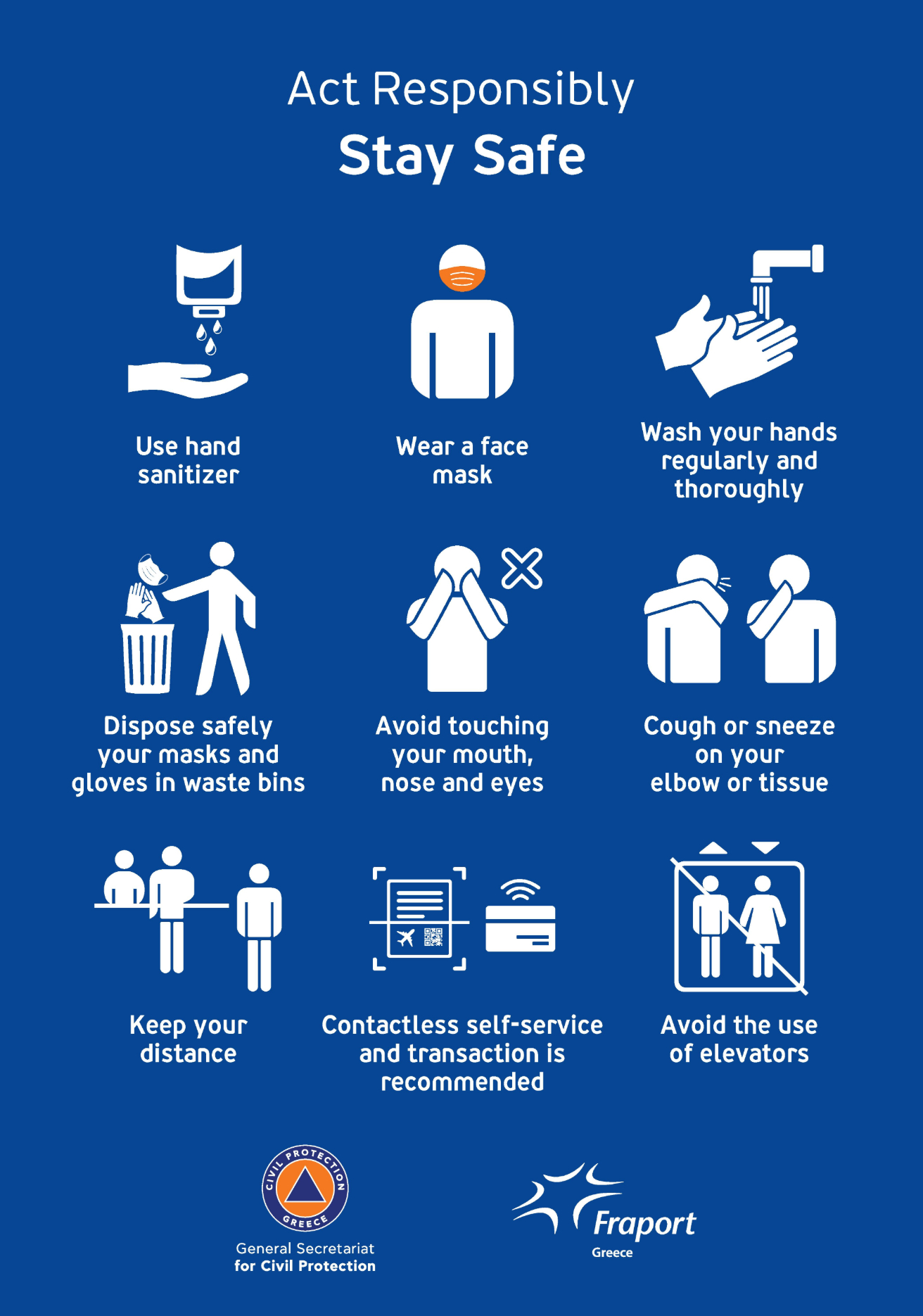 - Vending machine, Terminal T2, Departures level, Curbside area, near entrance 1
- WHSmith shop, Terminal T2, Departures level, All users area
- Duty Free shops, After security control
- Everest F&B outlet, Terminal T1, Arrivals level, Curbside area